Let's Talk...Cancer Awareness
Our April 'Let's Talk' discussed cancer awareness. Unfortunately, we had a low turnout for this. If you would like to participate in our market research for our 'Let's Talk' events - you can do so here: https://forms.gle/aqky9wmX6yiAYzN88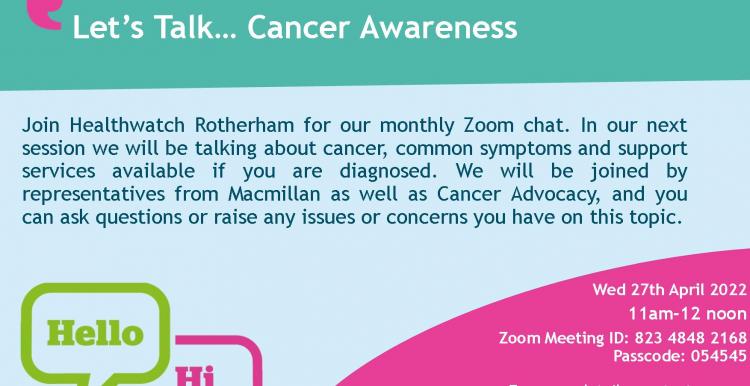 Our latest 'Let's Talk' event discussed cancer awareness.
We were joined by Michelle Fletcher, lead cancer nurse at Rotherham Macmillan. Michelle discussed:
What cancer is
Common types of cancer
Prevention and early detection
How to reduce your risk
Common signs and symptoms 
This was incredibly interesting and allowed guests to see how cancer occurs, and the importance of seeing your GP. Michelle also discussed some of the reasons people delay seeking medical help. These included fear, lack of time and an unawareness of symptoms.
We then heard from Faye McDool from the Cancer Advocacy service. Faye discussed the cancer advocacy service, what they do and the support they can and can't offer as a service.
Faye then went on to discuss the various services available to people in the South Yorkshire area who are affected by cancer. 
A copy of the slides can be found below.
We would like to say a huge thank you to our guest speakers and we hope you found the session informative.
If you have any questions about anything mentioned above, please contact us on:
info@healthwatchrotherham.org.uk
Our next 'Let's Talk' event will take place on Friday 27th May at 11am. The session will cover perinatal mental health and we will be joined by services who can answer any questions or concerns you may have on this topic. 
Friday 27th May 2022
11am-12 noon
Meeting ID: 872 5123 8127
Passcode: 965570