Let's Talk...Access to Dental Care
Our latest 'Let's Talk' event looked at access to dentistry in Rotherham. We had a turnout of 10 guests from services including dentistry, Healthwatch and Voluntary Action Rotherham.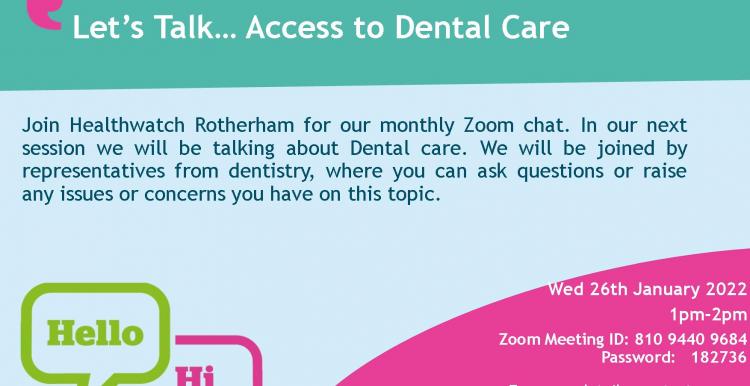 Jamie Ashton hosted the session and asked everyone to introduce themselves. She then went through some basic ground rules and the itinerary of the session.
The session began with a talk by Ellie Durband, a foundation dentist. Ellie discussed the importance of keeping our teeth healthy and the importance of good oral hygiene.
We then moved onto Emma, the information and campaigns officer for Healthwatch Rotherham. Emma has recently run a dentist survey for Rotherham residents as part of a report into dentistry in Rotherham. Some of the key survey findings were then presented at the event. Emma found that the main issue lies with people who do not have a pre-existing dental surgery already, and cannot obtain an appointment anywhere. Emma rang up 18 dental surgeries in Rotherham, and 16 of those were not accepting new patients. Many have extremely long waiting lists of 18-24 months, with some having no waiting list at all. The full report will be published and available to read on our website early February 2022.
We then heard from Steven Thompson, the chair of Rotherham dental committee. Steve explained the difficulties dentists are facing, trying to deal with staff shortages whilst being told they need to take on new patients as well as seeing existing patients. Patients are being added to a waiting list that practices will never get on top of. It was also highlighted in the session that there is a common misconception that you need to be registered with a dentist. You can attend any dentist (if you can get an appointment), and this can be in any part of the country (you are not limited to your area).
Jamie then went over some general NHS dentist advice that is given to patients, as well as a stakeholder update released in January 2022.  The latest update included detailed advice to patients regarding their teeth, how to obtain an appointment and what to do if you have a dental issue out of hours.
Full details of the stakeholder update can be found in the Powerpoint slides attached.
We then had a really interesting Q&A session with lots of detailed comments and discussions regarding dentistry and how and when these problems and issues will be resolved. Topics in the Q&A included emergency appointments and NHS 111, as well as the recent £50 million additional funding for dentists and the issue of staff shortages and what factors are causing these.
Thank you to all our speakers for their informative and detailed information, as well as to everyone who attended for their comments and questions. We hope you found the session useful.
The Powerpoint slides from the event can be found here:
Our next Let's Talk event is being held on Wednesday 23rd February at our normal time of 11am-12pm. This event is focusing on cancer awareness. We will have speakers from healthcare services as well as support services. The event will look into defining cancer, common symptoms of cancer, the importance of going to your GP and what support services are available if you receive a diagnosis.
Zoom Meeting ID: 850 6615 2013
Password:   302431