Let's Talk.....Current Patient Access to GP Services session on 28th July 2021
Thank you to everyone who attended our latest Let's Talk session where we discussed the current access to GP Services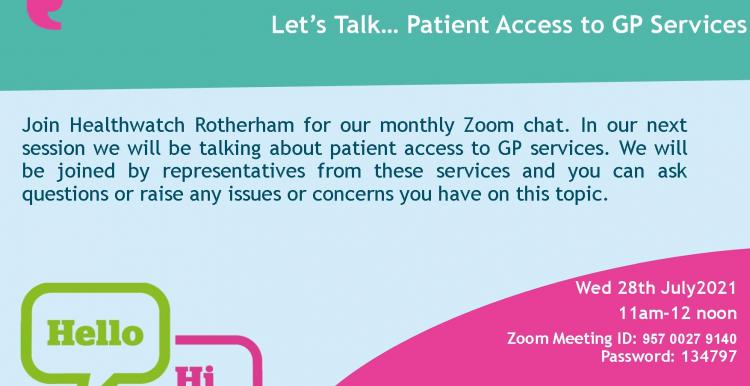 The way that services operate and how we live has dramatically changed since March 2020 and our GP Services are no exception. The pandemic has forced health care providers to look at ways they can continue to deliver their services whilst navigating patients and staff safely around the building. This has seen a move over to more telephone and video consultations which has worked really well in some cases and not so well in others. As we come out of lockdown restrictions we need to look at how services will be delivered in future to meet the needs of both the GP Practice and the patient. As this is a very emotive subject we asked if local GPs and healthcare staff would be willing to come along to our session and speak about the current access to their services. 
We opened the session by talking about the current pressures on the GP Surgeries which included
Patients presenting late with a serious concern, during the early days of the pandemic patients put off seeing their Doctor for fear of catching the virus or placing a burden on the NHS.
Catching up on annual medication reviews
Loss of staff to man the vaccination hubs
Increase in patients with mental health issues
Patients presenting with Long Covid
Patients not answering calls for pre booked telephone appointments or not being in an appropriate environment to discuss their healthcare needs.
Extra time needed for appointments due to PPE requirements and infection control
Increased waiting times for hospital appointments or elective surgery meaning the patient needs to be managed by GP services for longer
We were joined by Dr Tim Douglas from Rother Valley South PCN who thanked everyone for attending and said how great it was that these sort of meetings/sessions had come out of the pandemic which enabled people to come together and discuss these kind of issues, he welcomed any feedback from residents on how GP Services could work better. Dr Douglas spoke about how some patients had suffered during the pandemic especially people with long term conditions, people receiving palliative care and people with dementia, the restrictions had made some of their care really difficult but now we need to look at how we support patients going forward.
Dr Douglas spoke about a range of services offered by GP Practices that are there to support patients and often the Doctor may not be the best person for you to speak to within the practice and we need to take a more holistic approach to our healthcare. A question was raised about "holistic" what does it mean? to many patients they do not understand the jargon and this will put them off trying other services. In the past "holistic" was used to describe alternative therapies like acupuncture and aromatherapy. Dr Douglas explained in this instance "holistic" was used to mean looking at the whole person, taking into account social and mental factors and not just looking a symptoms.
One of the audience raised the fact that we need to do more to help ourselves, there are lots of things we can do to look after ourselves to prevent ill health in the future and this was probably not promoted enough. Dr Cullen gave links to two really good websites aimed at Rotherham residents
We also need to look at how we promote the use of Pharmacy services, many of us will walk by a Pharmacy on the way to a Doctors appointment and we need to start and make use of them - they are trained professionals and many have a private consultation room. We need to take advantage of their services and how we promote the importance of them, they provide lots of information and can avoid a lengthy wait for a Doctors appointment and save us time.
We also talked about right care first time and how seeing a nurse or and advanced nurse practitioner does not mean that you are getting a 2nd class service.
Dr Richard Cullen (Broom Lane Medical Centre and Chair of Rotherham Clinical Commissioning Group) spoke about how we are all suffering from fatigue, we have lived the last 18 months as if we were part of a science fiction novel, the initial energy that we all felt at the beginning of the pandemic enabled us to put a positive spin on things, but as time has gone on and we have been subjected to lockdowns and restrictions and our energy is start to lower and we find it difficult to see a time when we will get back to our old normal. This causes an increase in stress and anxiety levels and ultimately contributes to us feeling unwell and under the weather.  Dr Cullen reiterated that patient safety is paramount and infection control in GP Surgeries is high priority especially when dealing with patients who are clinically vulnerable.
Next we heard from Andrea Kitchen who is the Practice Manager at Broom Lane Medical Centre, Andrea started off by saying their is a misconception (nationally) that GP Surgeries closed their doors in March 2020 and this is absolutely not the case! GP Surgeries have remained open throughout the pandemic and have been seeing patients face to face where necessary. The move to telephone triage and video consultations was undertaken to protect patients and in the main has worked really well. There have been times when like all services the Practice has been short staffed due to people having to isolate or contracting the virus themselves. The receptionist are trained care navigators and the questions they ask help to direct you to the best healthcare professional to help with your problem, this is not always a GP.
Andrea talked about the Primary Care Networks (PCN) and how a number of GP Practices will work together to provide a bespoke service to patients which can include access to Social Prescribing, Physio First and Mental Health Practitioners to name a few.
Click here to find out more about PCNs in Rotherham
Tony Cowgill PCN Link worker for Rother Valley South was next on the agenda and Tony spoke to the group about the advantages of using social prescribing and how it can help patients connect to others and manage their self care by signposting to activities and services within their local community. Tony mentioned Rotherhive as a resource and also Rotherham Gismo and Five Ways to Wellbeing
Each Primary Care Network has a Link Worker and details of them can be found on Voluntary Action Rotherham's website here, the website also gives details of the social prescribing teams here
Our last guest for this session was Karen Shaw from The Learning Community, Karen talked about digital exclusion and the work that they are doing to reach out to residents and give training sessions on how to use digital services including the Rotherham Health App which can be used to access a range of GP Services. Karen has funding for equipment which can be loaned to residents. They also received donations of equipment which they can pass out to disadvantaged communities. You can find out more about their work here