Lets Talk.....Mental Health Session 24th February 2021
A big thank you to all the participants who attended our February Lets Talk...session where we talked about mental health and what support is on offer in Rotherham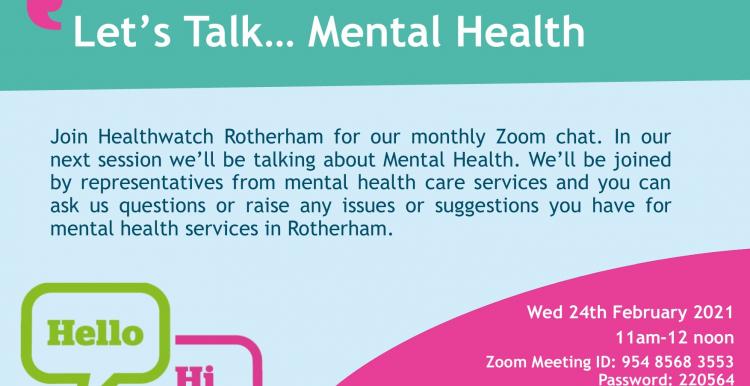 A big thank you to all the participants who attended our February Lets Talk session where we talked about mental health and what is on offer in Rotherham.
We started the session by introducing ourselves and saying one thing that made us grateful, there were some great responses including many of us being grateful that we could see signs of spring being on the way, lighter nights and brighter days gave us all hope that we soon be reaching the end of the restrictions currently in place due to the pandemic.
Following the introductions we watched a short video I had a black dog, his name was depression and afterwards had a group discussion on depression and how people have different ways of coping with it and what support is available. The group talked about how people often wait until it is too late before reaching out for help, thinking that they are alone and no one can help when this is not the case. 
We then moved on to talk about self care, what it means to us and how we should not feel guilty for taking time out to look after our wellbeing. We watched a video How to meditate in a moment and afterwards we talked about coping mechanisms we used when we start to feel stressed or anxious. There were lots of talk about going for a walk to clear our heads, taking time out to have a relaxing bath and enjoy some peace away from everyone and using oils and meditation. Hannah kindly talked us through the contents of her rescue pack which contained lots of little items that help to lift her spirits or calm her down when she is feeling stressed or anxious. Everyone agreed it was a really good idea and easy to put together.
Self Care or Rescue pack
Use a small bag, pencil case or make-up/toiletry bag work really well but an ordinary plastic bag is just fine too.  The contents can vary from person to person but here are a few ideas of what yours could contain.
Notebook, use this to write down names of people who mean something to you, its a good reminder that there are people who care about you when it may not feel that way.
Medication, pain relief for stress headaches, bonjela as many people suffer mouth ulcers when stressed.
Snack, something you enjoy eating and would look forward to, maybe a small bar of chocolate, nuts, dried fruit or jellies.
Distractions, a fidget spinner, elastic band or a pen to click
Essential oils, familiar smells can create a calming environment
Tissues, a good cry is sometimes what we need, can also be used with the oils.
Religious items, a cross, rosary beads or other religious items can often bring comfort.
Drink, a herbal teabag or a sachet of your favourite hot chocolate.
We ended the session by talking about older people and their mental health, how it has been impacted by the pandemic and how we can support them to get back into society when restrictions start to ease. Many have been left feeling unwanted and unloved even asking "is this a life worth living?"  We need to make sure that we are best placed to offer support in our local communities when the time is right and Age UK in Rotherham have been doing some fantastic work to support our older people you can read more about it here
We also heard briefly from Crossroads Care in Rotherham who offer support to carers with a wide range of activities, counselling sessions, training session and grant funding. They have recently secured some funding to enable them to work in partnership with Mind to offer unpaid carers up to 6 counselling sessions and are also delivering workshops across the borough to carers on the Herbert Protocol and This is me.  You can find more information on their website here
All in all it was a great session and an hour wasn't nearly long enough to explore mental health support in Rotherham but we all went away feeling we had gained some information and made new friends!
Next time....
Our next Lets Talk session is at 11am Wednesday 24th March 2021 where we will be talking about the Covid-19 vaccine. Come along and join us we would love to know your thoughts on the vaccine and your experience of the rollout of the vaccine program in Rotherham
 Healthwatch Rotherham         Lets Talk.....Covid Vaccine
Time: Mar 24, 2021 11:00 AM London
Join Zoom Meeting
https://zoom.us/j/94824282978?pwd=Snc1U1h6cGZqZjI1ZUFRVHRkSng5QT09
Meeting ID: 948 2428 2978
Passcode: 761368