Let's Talk...COPD and TB Awareness event write up
Our latest 'Let's Talk' event was looking at COPD and TB Awareness. We had a turnout of 17 guests from a variety of services including Breathing Space, CAMHS, Rotherfed and Citizens Advice.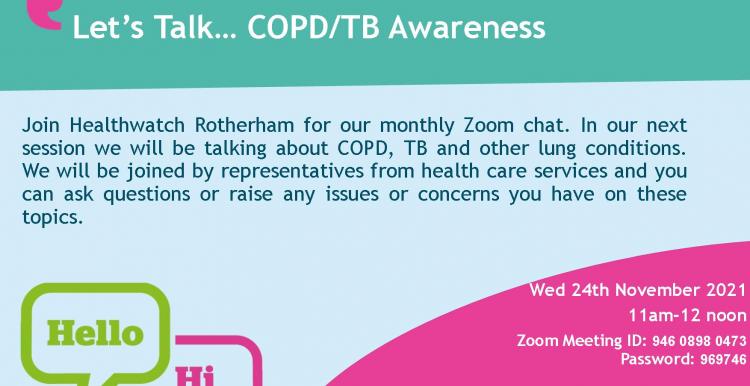 The session began with a short video from Healthsketch explaining what COPD is. You can see the full video in the Powerpoint slides attached at the bottom of this article.
Tracey Turton – The Rotherham Foundation Trust:
We were then joined by Tracey Turton, a TB Specialist Nurse and Service Lead from The Rotherham Foundation Trust. Tracey explained what TB is, symptoms of TB and treatment options. Full details can be found in the Powerpoint slides below.
If you have any questions regarding TB, you can contact Tracey on 01709 425558
Breathing Space:
We were then joined by Jacqui Pollington, a nurse consultant from Breathing Space. Jacqui discussed the different services available for COPD sufferers, including playing a short video showing service users using the services provided. This can be viewed on the Powerpoint slides below.
Jacqui's colleague, Barbara Smith, a Specialist Respiratory Occupational Therapist at Breathing Space then joined to discuss what an occupational therapist is, what they do, how they might contact you and what the treatment may be.
Contact details:
For more information about Breathing Space, please contact them directly or speak to your GP, Practice Nurse, Hospital Consultant or Community Matron.
Telephone: 01709 421700
Get Healthy Rotherham:
We were then joined by Nicole Ingram, the service manager for Get Healthy Rotherham. Nicole discussed smoking and its links to Health and Mortality.
Smoking Cessation Support:
Our service is FREE to anyone living in Rotherham (must have a Rotherham postcode), aged 12 years and over.
Our Health Coaches are all NCSCT qualified and we follow the National evidence based guidance and NICE guidelines for stop smoking support.
Up to 12 weeks of weekly contacts which are one to one over the phone or via video call, with face to face sessions hopefully set to resume in the new year.
12 weeks of FREE Nicotine Replacement Therapy (NRT), delivered by Royal Mail to clients home address.
How to refer:
Your GP can refer to us for you by using the pre-populated referral form on their electronic systems.
All referrals to Get Healthy Rotherham are processed within 48 hours of receipt
Citizens Advice Rotherham – Kara Smith:
Kara Smith from Citizens Advice Rotherham then joined us to discuss how cold homes impact our health. Cold homes are linked with cardiovascular illness, respiratory illnesses and reduced immunity to viruses. We then learnt how to reduce the chances of getting condensation, damp and mould in the home. Full details can be found in the slides attached below.
Energy Training:
I am hosting a Free Energy virtual training session via Zoom, to support frontline workers and volunteers. This training has been provided by the Big Energy Saving Network and Citizens Advice. The training session will last 1.5 hours to over the session and any questions at the end. 
On this training session - I will be covering: 
Fuel Poverty Awareness 
The effects on consumers living in 
Fuel Poverty Information and advice during the current Energy Crisis 
Energy Efficiency and how to reduce Energy bills 
Energy Switching guidance 
Scheme / Grants available 
Resources to use when advising / providing information to consumers 
What help / advice is available for consumers  
The link to Eventbrite to Register is here : https://www.eventbrite.com/o/34296276097. 
Any questions please email kara.smith@citizensadvicerotherham.org.uk
COPD Studies – Rotherham Hospital:
Rotherham Hospital currently has two studies that involve recruiting patients with COPD. Currently, neither study is open to recruitment, but if this is something you are interested in taking part in when they open to recruitment, please contact Louise Weatherley at louise.weatherley3@nhs.net
Information about the studies can be found below:
COMPAIR (A Comparison of Clinic-based Versus Home-based Spirometry)PURPOSE
The study aims to assess the differences between spirometry performed with the NuvoAir Next spirometer in the clinical setting, with both direct and virtual supervision and in the home setting. This will be achieved by comparing lung function values, specifically the FEV1 and FVC measurements. We also wish to evaluate participant's perceptions of home spirometry, by using a survey.
Primary Objectives:
1.     To compare spirometric values obtained from the NuvoAir Air Next device, directly supervised in clinic and virtually supervised in clinic and at home.
2.     To compare spirometric values obtained from two virtually supervised tests performed at home, using the NuvoAir Air Next device.
SECONDARY OBJECTIVE
1.     To evaluate the participant's views of home spirometry via a survey.
Recruitment
To ensure a representative cross-section of participants are enrolled, we will aim that approximately 50% of enrolled participants are above the age of 50 and approximately 50% are below the age of 50.
Eligibility criteria
Inclusion criteria
·        An ability to provide fully informed consent.
·        A diagnosis of asthma or COPD.
·        Male or female aged ≥18 and ≤ 80 years of age.
Exclusion criteria
·        Symptoms suggestive of COVID-19.
·        An exacerbation of asthma or COPD or symptoms of a respiratory infection within the 30 days prior to the first visit.
·        Any other clinically significant medical disease or uncontrolled concomitant disease, that is likely, in the opinion of the Investigator(s), to impact on the ability to participate in the study.
·        The presence of any contraindications to spirometry.
COPE-WELL
Aim: Clinical validation of the Headstart® Test system for early detection of exacerbations in moderate/severe COPD patients
Study Population :The study will include adult patients diagnosed with COPD and who have experienced ≥2 moderate exacerbations in the previous 12 months.
Inclusion Criteria
1. Aged 40 years or over.
2. Diagnosis of COPD Stage 2-4 (GOLD I-IV) by spirometry.
3. Current or ex-smokers with a smoking history of at least 10 pack-years.
4. Be willing and able to comply with study procedures and be available for study visits.
5. Be a frequent exacerbator i.e. ≥2 moderate/severe exacerbations in the past 12 months (Patient reported exacerbations will be acceptable).
6. Be able to use a 'smart phone'.
7. Be able to give written consent.
8. Able to understand written and spoken English.
We would like to thank all of our guest speakers for providing some really useful information and signposting to their services. We would also like to thank everyone who attended and we hope you found it informative.
We will not be hosting a 'Let's Talk' event in December, but will be back on Wednesday 26th January 2022, 11am-12 noon, discussing 'accessing dentistry and health inequalities'. We hope to see you there.