Let's Talk.....Stroke Awareness session on 26th May 2021
A big thank you to all participants who attended our May Let's Talk session where we talked about stroke awareness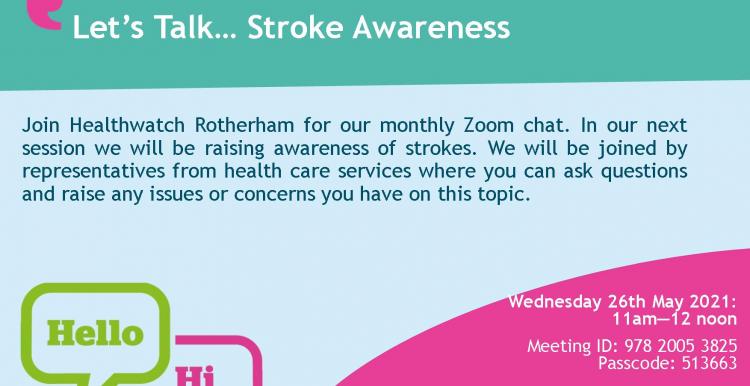 This session had a packed agenda to get through in a short space of time so we left our usual ice-breaker out for this one and just did a quick introductions. 
We had guest speakers from The Stroke Association, thank you Norma!  and we were also joined by two lovely residents Christine and John who came along to share their experience of the care and rehabilitation they received after suffering from a stroke.
We also had the pleasure of two junior doctors Sophie Moore and Philippa Davies who work on the Hyper Acute Stroke Unit at Sheffields Royal Hallamshire Hospital and Gemma Hayden who is a Team Leader on Rotherhams Stroke Rehabilitation Team based at Rotherham Hospital.
During 2019 the stroke pathway for South Yorkshire & Bassetlaw was re-designed. Research has show that getting the best care and treatment in the first 72 hours following a stroke is vital for patients to survive and thrive. 
If an ambulance is called for a suspected stroke, the ambulance service will liaise with the Hyper Acute Stoke Unit and aim to have the patient on their way (via blue lights) to one the specialists units based at Doncaster Royal Infirmary, Sheffield Royal Hallamshire or Pinderfields Hospital in Wakefield. Here they will receive care for the first 72 hours before being discharged to home or a hospital closer to home. 
We played a video so participants can see how the pathway works which can be seen here
After the video junior doctors Philippa and Sophie were on hand to answer any questions and give futher information on what happens during that first 72 hours.
Next we spoke about how we can help to prevent a stroke by 
Eating a healthy diet
Taking regular exercise
Not smoking
Keeping alcohol consumption below the recommended 14 units per week
Norma Roberts from the Stroke Association spoke to the group about what to expect after a stroke has occurred and you are discharged from hospital, this included
An initial assessment
Looking at what equipment maybe needed (e.g handrails)
Long term symptoms including fatigue and short term memory issues
General Advice and information
Support for carers and other family members
Gemma Hayden, Team Leader at Rotherham's Stroke Rehabilitation unit talked us through the recovery and what different teams are involved in the recovery process and what their roles are from physiotherapy to speech and language therapist. Each specialist service is there to help you get back to a near normal life and will work with you at your pace. Following a stroke there are lots of obstacles to overcome both physical and psychological but with support and time this can be achieved as proved by our next guests Christine and John.
Christine and John
Both local residents who have found themselves in the unfortunate position of having had a stroke, and happily came along and shared their experience with us.
It was really heartwarming to see and hear how they were in awe of the treatment that they received right from the ambulance being called right up until today were they were both in their own homes being supported by services and their families to lead a near normal life. Sharing their stories really brought the journey to life and we thank you so much for attending our session and sharing your story with us.
South Yorkshire & Bassetlaw Integrated Stroke Delivery Network are looking for Stroke Survivors and Carers of Stroke Survivors to join a panel to ensure that their voices are heard within the network. 
to find out more details please download the leaflet
Next time...........
Join us on the 23rd June at 11am where we will be discussing Diabetes and Medicine Management.
Joining instructions
Zoom Meeting ID 931 6950 5277
Password  917313
for more details contact us on 01709 717130 or email info@healthwatchrotherham.org.uk