Let's Talk......Covid Vaccines session 24th March 2021
A big thank you to all that participants that attended our March Let's Talk session where we talked about the myths and concerns around the covid-19 vaccinations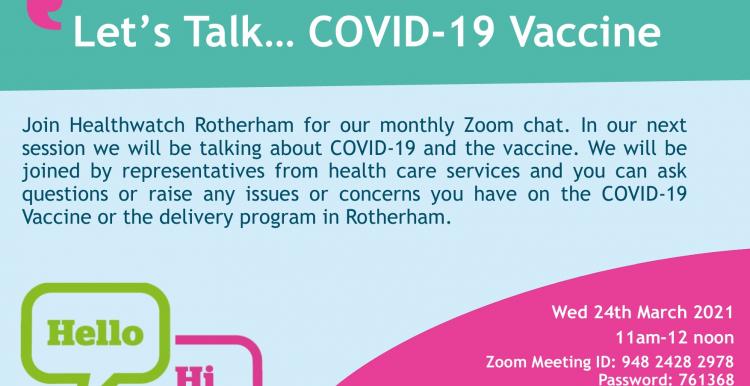 We began our session by introductions and saying one thing that we had heard about the Covid-19 vaccine. This produced a wide variety of myths and conspiracy theories including
The vaccine contains a chip, so the government know where we are at all times
Coronavirus is caused by 5G
The vaccine can change our DNA
Young people do not need the vaccine
The vaccine is harmful for BAME communities
The vaccine contains cells from aborted fetuses
The vaccine causes infertility
We then went through a short presentation where we talked about how vaccines are the most effective way to prevent infectious diseases and how they work with our immune system.
We also talked about how any vaccine must go through extensive safety trials and gain authorisation by the independent medicines regulator the MHRA (Medicines and Healthcare products Regulatory Agency) and the Covid-19 vaccine was no exception.
The vaccine appears to have been developed quickly and this has raised concerns but in truth the researchers already had lots of information regarding the coronavirus family. I'm sure we all remember the SARS (Sever Acute Respiratory Syndrome) epidemic in 2002 and MERS (Middle East Respiritory Syndrome) in 2012 - both of which are part of the coronavirus family.
Amid a global pandemic time was a luxury that no-one could afford and researchers worldwide quickly came together to share their knowledge and data with each other. Vaccine research is also a very costly process but due to the nature of this virus funding was pledged from governments and the private sector around the world on a never seen before level.
Technology also played a big part, work had already been ongoing for sometime on MRNA (messenger vaccines) technology on which the Pfizer and Moderna vaccines are based on.
The same amount of trials took place as with any other vaccine, the difference was they took place back to back instead of having gaps between in phase. The same amount of data was collected as would be with any other vaccine, with more people working on the vaccine around the clock it was analysed much quicker.
People have questioned the "long term effects" the vaccine may cause, with previous vaccines side effects normally appear at the time the vaccine is given or very shortly afterwards, rarer problems can develop over time when millions have been immunised but this is the same for any vaccine ever developed.
What vaccines are available in the UK?
Currently there are three vaccines which have been approved for use in the UK, these are
Pfizer
Astrazeneca (also known as the Oxford Vaccine)

Moderna (not yet used in the UK, first doses expected April 2021)
Research has show that the Pfizer vaccine is between 57% and 61% effective against the symptoms of Covid-19 after one dose and between 60% and 73% with Astrazeneca.  UK experts conducted research and found this to be around 88% which was the main driver for the decision to move the second dose to 12 weeks after the first to enable more people to receive their first dose quicker.
When will I get the vaccine?
The Government has set out the top 9 priority groups to be vaccinated which includes everyone over the age of 50, carers and residents who are classed as clinically extremely vulnerable. The Government has also said that everyone in the top 9 priority groups is to have received their first dose of the vaccine by 15th April 2021. Rotherham is currently on target to achieve this with a large majority of these cohorts having already received the first dose, there is a "mopping" up exercise to ensure no one in those priority groups who want to have the vaccine have been missed.
There are two vaccine programmes running side by side, there is a national programme being delivered by NHS England where you will be invited via a letter or text to book an appointment at a national vaccination hub. Our nearest national hub is currently Sheffield Fly DSA Arena, although you may also be given the option to attend hubs in Wakefield, Mansfield or Leeds.
We also have a local programme running which is being led by Rotherham Clinical Commissioning Group. You will be contacted by a local hub either by text or telephone (from the details held on your GP record) and you will be invited to attend one of 5 local centres.
Text messages from the national programme will be from NHS Vaccine
Text messages from the local programme will be from GP Surgery
Neither will ever ask for any money, bank details or personal information
Ingredients and Allergies
Unlike some of the flu vaccines which are made using eggs, none of the covid vaccines do, nor do they contain any animal products. All the vaccines have been approved by the British Islamic Medical Association.
Everyone will be asked a short series of questions before being given the vaccine and you will also be given the opportunity to ask the clinician any questions or raise any concerns.
Anyone with a food allergy will be fine to have any of the vaccines as they do not contain any food ingredients. People with medical allergies for example penicillin or beta blockers should have the Astrazenica (Oxford) vaccine.
Ramadan
The month of Ramadan is expected to start mid April and Imams guidance is that it is absolutely fine to have "an intra-muscular injection" during Ramadan and this will NOT break your fast. It is really important that you take up your invitation during this period as this is the best hope of us returning to a normal way of life. If you have any serious concerns regarding the vaccine these should be discussed with your GP who can put your mind at rest.
Side Effects
As with any injection/medication you may experience some mild side effects from the vaccine as your body reacts and starts to build up your immunity. These may include
Soreness at the sight of the injection
Tenderness in the arm
Tiredness, headache and general flu like symptoms
The symptoms should only last 1 or 2 days and can be treated with paracetamol.
It is important that even if you suffer symptoms after the first dose you still attend for the second dose when invited.
You cannot catch Covid from the vaccine and afterwards you still need to follow national guidance on Hands - Face - Space and fresh air.
Scams
It is really important that you do not get caught out by any of the elaborate scams currently doing the rounds remember the NHS will NEVER
Ask for payment or bank details
Ask for a PIN number
Ask you to press a button on your keypad
Ask you to send a text confirmation
Arrive unannounced at your home
ask for copies of your passport or driving licence